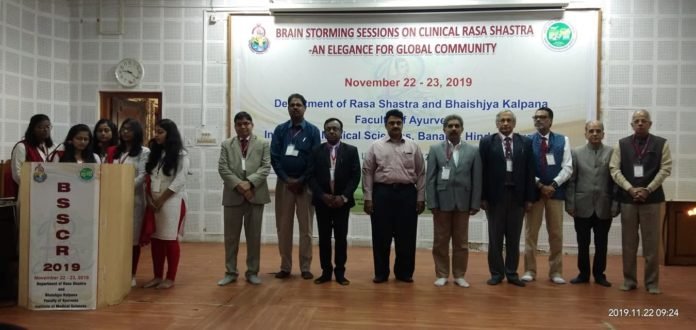 Brain Storming Sessions on Clinical Rasa Shastra
(22 – 23 November 2019)
Department of Rasa Shastra & Bhaishjya Kalpana, Faculty of Ayurveda, IMS, BHU in collaboration with Ayurveda Network, organized a National symposium – "Brain Storming Sessions on Clinical Rasa Shastra – An elegance for Global Community", during 22-23 November, 2019. The programme was graced by about 130 delegates across the states, three invited resource persons from Uttarakhand, Kerala and Karnataka, 08 invited expert panelists and other participants from BHU and other institutes viz. academicians, researchers and clinical practitioners.
Inaugural Session: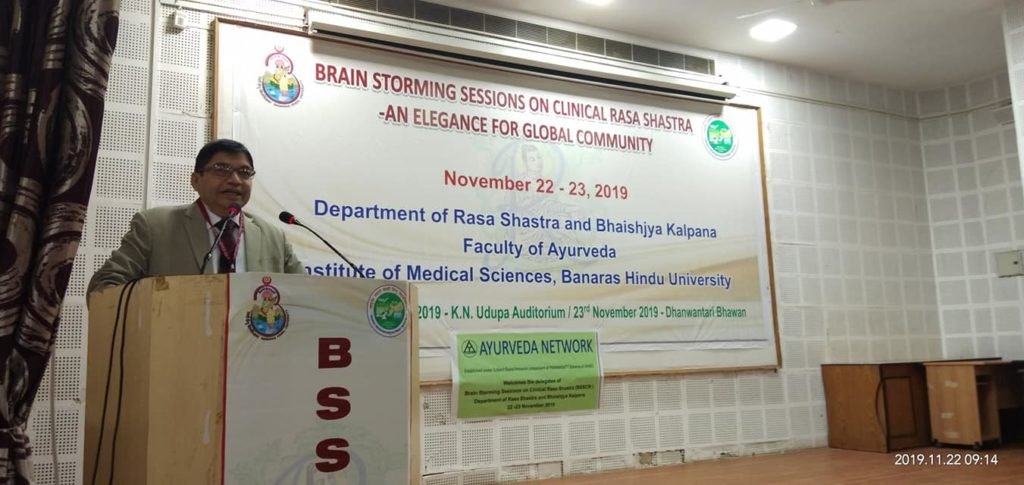 The inaugural programme was held at Dr. K.N. Udupa Auditorium, IMS, BHU. Dr R.K. Jain, (Director-IMS), Prof. Y.B. Tripathi, (Dean-Faculty of Ayurveda), Vd. Balendu Prakash, (Founder Director VCP cancer research centre and Padav speciality clinic-Uttarakhand), Prof. Sasikumar Nechiyil, (MD-Siddeswar Drugs-Palakkad, Kerala), Prof. M Gopikrishna (SJG Ayurveda college, Koppal, Karnataka), and Prof. Anand K Chaudhary (Organising secretary and Head-Rasa Shastra dept, Faculty of Ayurveda, IMS, BHU) were present. Inaugural address was delivered by Dr R.K. Jain and Prof. Y.B. Tripathi.
Scientific Sessions (Sessions I-V): 
In sessions I, Vd. Balendu Prakash shared his experiences and work on Rasoushadhi based management for Pancreatitis under the title 'Clinic to concept following reverse pharmacology; a test model through Ayurvedic treatment for pancreatitis'. The session was conducted by Dr. D.N.S. Gautam.
In the next scientific session, conducted by Dr. L.N. Gupta, Prof. S. Nechiyil expressed his insights and understanding on 'Clinical Rasa Shastra with Fundamental notation'.
Scientific session III was graced by the expert Prof. M. Gopikrishna who shared his vast clinical experiences with the evidence of several chronic patients cured by him with Rasoushadhis along with videos of his clinical cases. The session was conducted by Dr. Rohit Sharma, Asst. Prof.-Rasa shastra dept of the institute.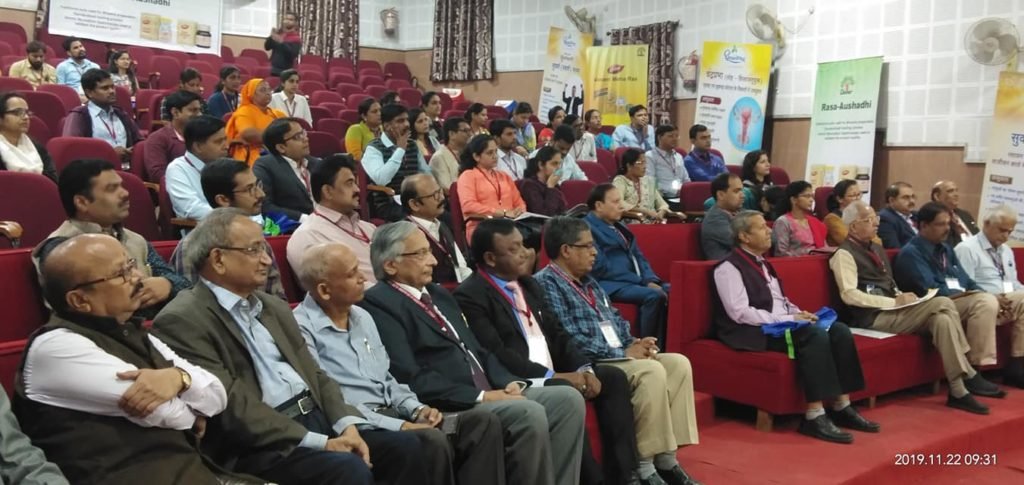 Scientific session-IV was dedicated to Industry interaction and two expert speakers from pharma sector namely Vd. R.V. Gudi, Shree Dhootpapeshwar Ltd., Mumbai, and Dr. Rajiv Rai, Sr. Principal Scientist, Dabur-India, Delhi discussed their opinion and vision on Rasoushadhi preparation. The session was conducted by Dr. Guruprasad C. Nille, Asst. Prof.-Rasa Shastra dept. of the institute.
The Session-V was themed for Panel discussion with the eight expert panelists, namely, Prof. V.K. Joshi (Professor Emeritus-BHU and Chairperson APC, Ministry of AYUSH), Dr Narendra Bhatt (Consultant Ayurveda Research & Industry, Mumbai), Prof. A.K. Tripathi, (Director, Institute of Science, BHU), Prof. R. Chandra (Director, Institute of Agricultural Sciences, BHU), Prof. K.K. Tripathi (Former Head Dept. of Medicine, IMS, BHU), Prof. N. Kabilan (HOD Dept of Siddha, TTDMGRM University, Chennai), Prof. A.R. Raghuvanshi (Director, Institute of Environmental & Sustainable Development, BHU) and Prof. Ashish Bajpai (Institute of Management sciences, BHU). The discussion was focused on the theme 'Roadmap for the globalization of Ayurveda in its totality'. Every expert panelist gave his enlightening vision and suggestions for the global propagation and recognition of Ayurveda and Rasoushadhi. The session was moderated by Prof. Anand K Chaudhary.
Brain Storming Sessions and Panel Discussion:
On the next day, Brainstorming sessions I, II, and III were held in separate lecture Halls of Dhanwantari Bhawan, Faculty of Ayurveda, IMS, BHU. The invited delegates and participants were divided in separate groups to have discussions with invited resource persons Vd. Balendu Prakash, Prof. S. Nechiyil and Prof. M. Gopikrishna in separate halls. The conveners of the sessions were PhD scholars of Rasa Shastra department. The delegates discussed their queries with experts and cleared the doubts regarding quality, safety and efficacy of Rasoushadhis.
This was followed by Panel discussions at Acharya Sharangdhara Lecture theatre, Rasa shastra dept, Faculty of Ayurveda, IMS, BHU, on the theme 'Does the Quality, Safety and Efficacy of Ayurvedic medicines are barriers for social acceptance of Ayurveda'. On the basis of active participation, clinical interest, seniority/experience and discussions with resource persons in brain storming sessions, total five delegates were selected on the spot among all registered delegates.
Valedictory Ceremony
The session was held in the Acharya Sharangdhara Lecture Theatre. Prof. Y.B. Tripathi and Invited Resource persons were present on the dais. All the dignitaries expressed their vision and thoughts on the successful organization of the event. They shared their vision about the current scenario, future prospects and regulatory concerns of Rasoushadhis.
Recommendations of BSSCR-2019
Apart from issues like limited awareness among Ayurveda practitioners, there are several challenges in the pharmaceutical sector of Rasoushadhis that require special attention: lack of quality assurance, noncompliance with prescribed classical guidelines of manufacturing, and poor market surveillance/feedback. It was aptly discussed that all such factors may lead to misrepresentation of actual therapeutic values and ignorance of safety issues. Such an inability to deal with ambiguity may contribute to the issues of irreproducibility and non-credibility.
The inherent uncertainty of the risks and benefits of Rasoushadhis was duly acknowledged and explained by expert speakers. Concerns were also raised about scarcity of systematic documentation concerning quality, safety and clinical efficacy aspects of Rasoushadhis. Open views were expressed by Resource persons that integration of modern scientific approach and techniques with traditional Rasoushadhis preparative processes in order to pave the path for their evidence-based global recognition.
Considering the extensive exchange of knowledge and fruitful outcomes of BSSCR-2019, following recommendations were made:
• It appears that there is a quantum of indication among the learned delegates that Rasoushadhis are effective in clinical practice.
• But they are equally worried about the quality and safety of Rasoushadhis available in the market.
• In this situation when the demand is high due to its efficacy but the quality is under scanner, the BSSCR recommends that the government should ensure the implementation of the norms of Rasoushadhis notified in 2009 under Drug and Cosmetic act 1940.
• The quality control measures defined by PLIM should be mandatory for all companies.
• The methodology of Shodhana and Marana should be calibrated and should be notified in the next volume of API with the directives that it should be accepted by all pharmaceutical companies.
• Ministry of AYUSH, Government of India is requested to be vigilant about the global movement against the use of mercury and it should be made available in India for medicinal purposes on the virtue of its quality, safety and efficacy.
• The Ministry of AYUSH is being requested to sponsor a meeting of experts of Rasa Shastra, representatives of regulators and manufacturers, officials of Ministry, experts of Rasa Shastra to map out the progression path of Rasoushadhis in India.