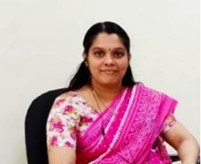 Dr Resmy Raj. A, works as an Assistant Professor in the Department of Kriya Shareera, SDM Institute of Ayurveda and Hospital, Bengaluru. She completed her BAMS from Amrita School of Ayurveda in the year 2012 and MD(Ay) from Govt. Ayurveda College Kannur, Kerala in 2016.
Awards and honors received:
Secured first rank in CCRAS – AYUSH NET for PhD fellowship in the year 2017.
Gold Medalist winner in BAMS from Amruta School of Ayurveda in the year 2012.
Recipient of  Nagarjuna Award  for academic excellence in the year  2013
Recipient of Ashtavaidyan E.T.Neelakandan moos memorial award
Jeevaka Award presented by Himalaya Herbal Medicines in Feb 2012
Research activity:
Principal investigator in the project titled "An Open-label Interventional study to find out the effect of Shivasamkalpa Sooktha on the stress level of college-going students" funded by Rajeev Gandhi University of health Sciences.