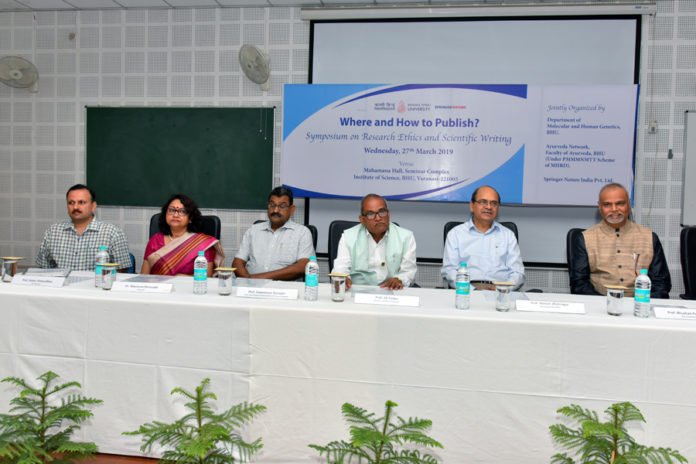 'WHERE AND HOW TO PUBLISH?'
Symposium on Research Ethics and Scientific Publishing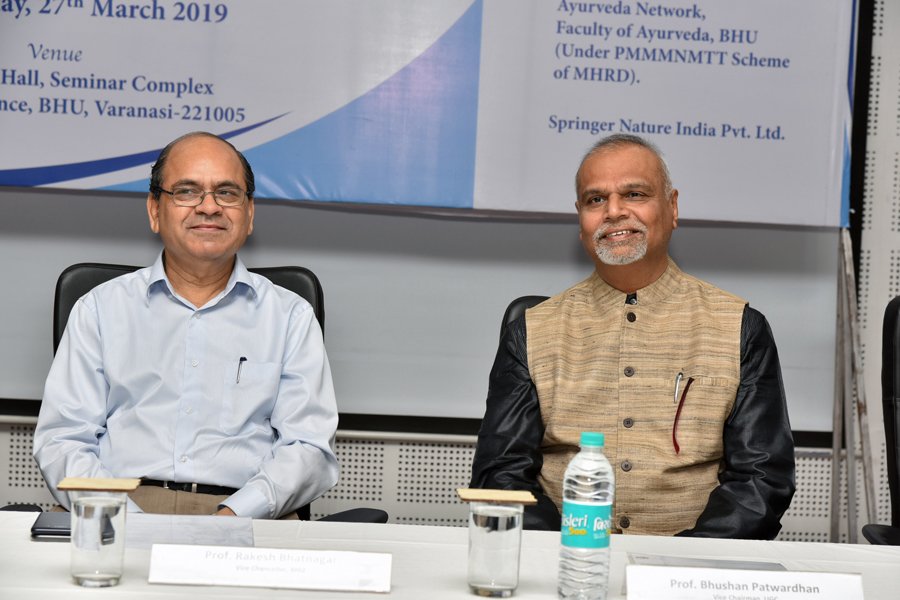 Ayurveda Network – Faculty of Ayurveda (established under Pandit Madan Mohan Malviya National Mission on Teachers and Teaching Scheme of MHRD), Department of Molecular and Human Genetics, and Springer Nature India, Pvt. Ltd. jointly conducted a one day Symposium on Research Ethics and Scientific Publishing titled 'Where and How to publish?' on 27thMarch, 2019 in Banaras Hindu University.
The event was organized to generate awareness regarding how to protect the research from predatory journals. Low quality journals have been instrumental in deteriorating the image of Indian research in global Scenario. It was first of its kind of a joint effort of this scale to generate awareness among the young researchers for publishing in quality journals.
The initiative was aimed at bringing together the critical pillars of the publishing process: policy makers, leaders of Universities, reputed publishers and the researchers. This effort culminated successfully into a deeply enlightening and motivational event. The guest of honour of the event was Prof. Bhushan Patwardhan, UGC Vice Chairman and it was presided over by the Vice Chancellor of B.H.U., Prof. Rakesh Bhatnagar. Other resource persons were Prof. SC Lakhotia, Distinguished Professor, Department of Zoology and Dr. Bhavik Sawhney, Springer Nature India, Pvt. Ltd. More than 300 research scholars teachers from various science disciplines took active part in the event.
The event started with planting of the sapling of Ashoka tree at Malaviya Bhawan by the guests of the event. The series of introductory lectures by the heads of the organising departments shed light on the activities of their departments. The team of Springer Nature India Pvt. Ltd. lead by Dr. Naren Agrawal, briefed about the publication process and how to communicate research globally and effectively.
The intentions behind organising such an event were brought to the fore by the convener Dr. Mousumi Mutsuddi and the co-convenor Prof. Kishor Patwardhan.
The Chief Guest, UGC Vice Chairman, Prof. Bhushan Patwardhan briefed the audience about the new initiatives of UGC that are designed for upliftment of the quality of research in India. He talked about the initiatives like 'STRIDE' [Scheme for Trans-Disciplinary research through Higher Education Institutes for National development and Entrepreneurship], 'CARE' '[Consortium for Academic and Research Ethics]. He focused on the role of different government consortia like DBT, DST, ICMR, CSIR in execution of these schemes and emphasised the egocentric role to be played by BHU in implementation of STRIDE initiative. In the wake of poor quality of faculty recruitment recently in different universities he vehemently emphasised quality over just numbers of publications. For boosting the ethical responsibilities of young scientists and students, he said, UGC has introduced faculty and student induction programmes. He took up many interesting questions by the audience during the interactive session that followed his lecture. [View his full lecture HERE.]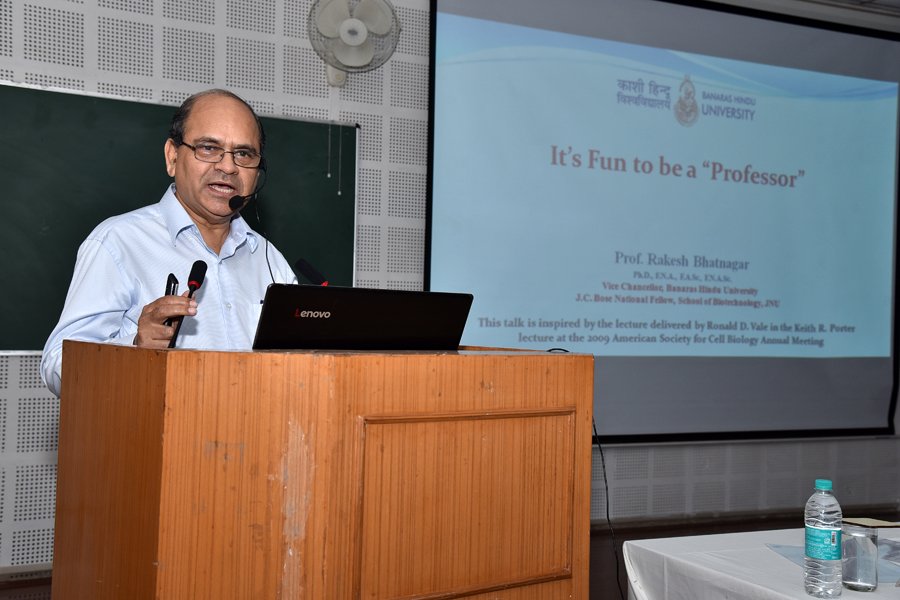 The Presidential address by the Vice Chancellor, Prof. Rakesh Bhatnagar highlighted the perks of being a researcher and academician despite being a field so demanding in terms of tenacity. Giving examples from his personal experiences he motivated the young minds to peruse research. [View his full lecture HERE.]
Prof. S.C. Lakhotia took over the dais to generate sensitivity about different ways of forgery in publishing research that are fundamental to the deteriorated status of Academics and research in India. Starting from basic issue of data fabrication to authorship and publication, he covered all possible loopholes which we create knowingly and unknowingly. The lectures were deeply insightful in nature, which motivated the young minds in Science to delve into the driving force that guides them into research and be cautious of elements like predatory journals that lure people. [View his full lecture HERE.]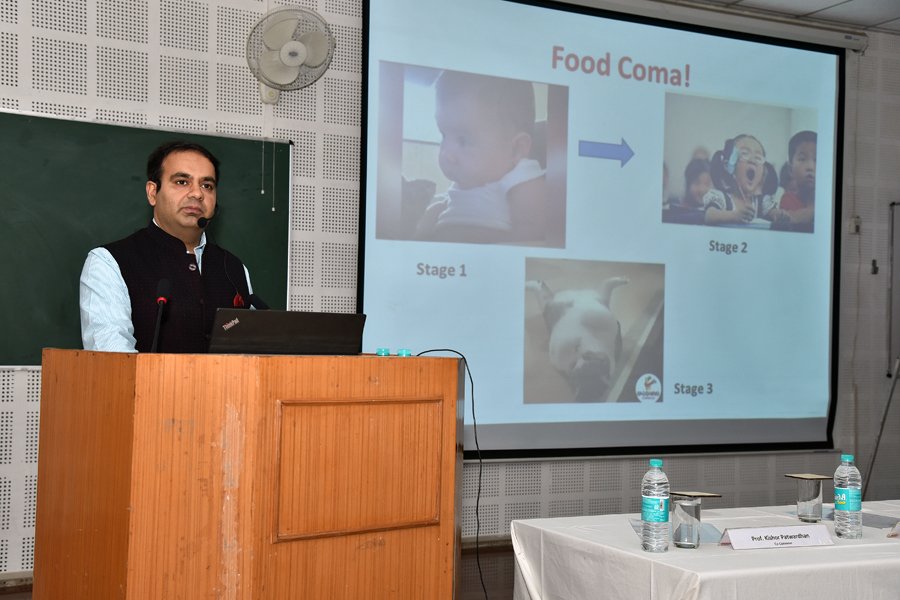 The programme concluded with an interesting and extremely informative interactive session by Dr. Bhavik Sawhney of Springer Nature India Private Limited, a brand in prestigious publishing and enlightened the audience about some basic stigmas associated with publication process. He discussed in detail the process of submitting a paper and vital points to be taken care of, while writing a research communication. [View his full lecture HERE.]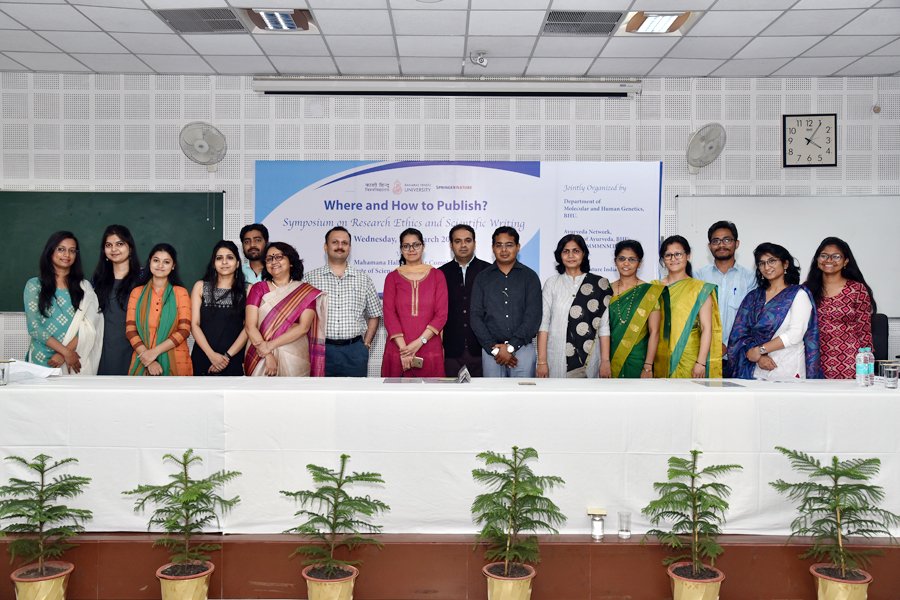 The event was conceived and executed by the Conveners Dr. Mousumi Mutsuddi, Prof. Kishor Patwardhan and organising committee members, Dr. Manoj Kumar and Dr. KHHVSSN Murthy and led to successful accomplishment which received an overwhelming response from all over the University.
For further details of the event, please click HERE