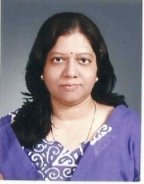 Dr. Supriya Bhalerao currently works as an Associate Professor at Interactive Research School of Health Affairs (IRSHA), Bharati Vidyapeeth Deemed University, Pune.
Dr. Supriya has many diplomas and degrees to her credit including MD (Ayu), PhD (Ayu), MA (Sanskrit), PG Diploma in Clinical Research and PG Diploma in Bioethics from different universities.
She has received special training in Bio-statistics including systematic reviews and meta-analysis and Techniques in Molecular Biology and Pharmacogenomics.
Past affiliations:
Research Officer at Dr. Sharadini Dahanukar-Advanced Centre for Ayurveda Research, Training and Services, Department of Clinical Pharmacology, TNMC & BYL Nair Ch. Hospital, Mumbai [July 1999-June 2013]
Ongoing projects (all as Principal Investigator):
Ministry of AYUSH (2016-2020): Evaluation of Triphala and Trimad for their effect on adipocyte biology and lipid metabolism
of Science and Technology (2019-2022): Effect of Yoga intervention on skeletal muscle linked glucose homeostasis in pre-diabetic individuals
Research areas: Metabolic diseases
Other important activities and positions held:
More than 200 invited lectures on Research methodology, biostatistics and scientific writing across the country
Associate Editor, Journal of Ayurveda and Integrative Medicine
Chairperson, Ethics Committee, ICMR-NITM, Belgaum, Cipla Palliative Cancer Center, Pune and BMK Ayurved Mahavidyalaya, Belgaum
Publications: 25 original and 10 review articles, 3 book chapters